Technical Sheet
Know an Avatar fan or child aged 9 and up who deserves a reward? This LEGO® Avatar Neytiri \u0026 Thanator vs. AMP Suit Quaritch (75571) building toy set will hit the mark. The set includes minifigures of Neytiri and Colonel Miles Quaritch, posable models of Neytiri's Thanator figure and the Colonel's AMP suit, plus a rainforest build with glow-in-the-dark pieces.
Play solo or join together to create family memories
Encourage a child or movie fan's love of nature with a set made to reflect Pandora's beautiful and dangerous rainforest, as kids and families play out action scenes or create new stories. Mix sets (sold separately) to extend the play and build a unique version of Pandora.
Made for action play or display
With iconic characters and locations, LEGO Avatar sets offer a great play experience and exciting story options. The models also look great displayed on a shelf, with a detailed build made for posing the figures so older fans can enjoy a joyful focus as they rediscover the vibrant universe.
Action and adventure – Kids and fans can relive the movie experience as they build this LEGO® Avatar Neytiri \u0026 Thanator vs. AMP Suit Quaritch (75571) set and explore the world of Pandora
What's inside – This LEGO® set includes Neytiri and Colonel Miles Quaritch minifigures, a buildable AMP suit and Thanator figure, plus a buildable rainforest scene with glow-in-the-dark elements
For play and display – Kids and Avatar fans can recreate an exciting scene from the movie or set up a dynamicdisplay with Neytiri and the Thanator posed to jump on the AMP-suited Colonel
For fans and kids aged 9 and up – Build and replay the final confrontation between Neytiri and the Colonel as they battle for the fate of Pandora
Play at home or on the go – The Colonel's posable AMP suit measures over 5 in. (13 cm) high, 2.5 in. (6 cm) wide and 4 in. (10 cm) deep and can hold the Colonel minifigure as well as a chainsaw
3 instruction booklets – All of the LEGO® Avatar sets are designed for social engagement, with 3 building instruction booklets so friends or family can co-build different parts of the set
Return to Pandora – This and other LEGO® Avatar sets (sold separately) can be given as holiday or birthday gifts for movie fans and inspire endless play for kids of all ages
High quality – LEGO® building pieces meet exacting quality standards that ensure they are consistent, compatible and work every time: it's been that way since 1958
Safety first – LEGO® pieces are tested to ensure that every building toy set meets strict safety standards, ensuring this Avatar set is well made and always ready for play
---
Summary
LEGO Avatar 75571 - Neytiri & Thanator Vs. Amp Suit Quaritch is part of the Avatar category. It has been published in 2022. The recommended price is £39.99.
We have found this set in 2 shops shops of our prices comparator and compared the offers. The lowest price for 75571 - Neytiri & Thanator Vs. Amp Suit Quaritch currently is £29.21 (excl. Shipping). You save £10.78 compared to the recommended price, buying it at 27% less!
---
LEGO Avatar 75571 - Neytiri & Thanator Vs. Amp Suit Quaritch:

2 Prices found
---

List price: £39.99
You save: £10.78

List price: £39.99
You save: £10.78
---
LEGO Avatar Best Seller
---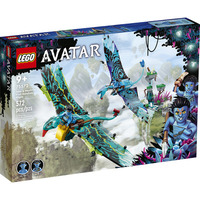 List price: £49.99
You save: £7.50
---
Price history for Neytiri & Thanator Vs. Amp Suit Quaritch
---
Min - Max price
£27.49
-
£33.24
Similar to Neytiri & Thanator Vs. Amp Suit Quaritch
---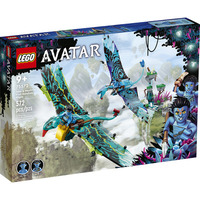 List price: £49.99
You save: £7.50